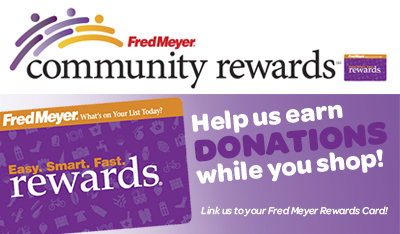 Link us to your Fred Meyer rewards card for effortless support!
The Fred Meyer Rewards Program is totally free for you and has the potential to benefit the library greatly!
Link your account to ours
and support the friends every time you shop.
Community Rewards
is the latest addition to the Fred Meyer Rewards Program where you can earn donations for your favorite nonprofit just by shopping with your Rewards Card. Fred Meyer will donate $2.6 million to nonprofits in Alaska, Idaho, Oregon and Washington every year through this new program. Here's how it works:
>>>Link your Rewards Card to the Friends of the Palmer Public Library.
log in to your online account
, and set up the link..
>>>Whenever you use your Rewards Card when shopping at Freddy's, you'll be helping the nonprofit linked to your Rewards Card earn a donation from Fred Meyer.
>>>At the end of each quarter, Fred Meyer will make a donation to participating nonprofits based on the accumulated spending of the Rewards Customers linked to each nonprofit.
>>>Fred Meyer will donate $650,000 each quarter via Community Rewards!
The more we shop as a group, the more Fred Meyer will donate to the Friends each quarter! (If you have more questions about Community Rewards, click the FAQ's button below.)
---
---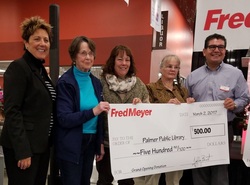 The Friends of the Palmer Public Library, and library staff would like to thank Fred Meyer for donating $500 to the library at their grand opening celebration. On hand to accept the donation were Friends Treasurer, Arlene Bowman, Library Director Beth Skow, and Friends President, Janice Stormer.

---