Alaska State Archives:
Historical documents, photos, and more. ALASKA BIRTH, MARRIAGE, DEATH, AND PROBATE RECORDS 1800S- 1959 NOW ONLINE.
Click here for Alaska Vital Records Search on FamilySearch.org.
1.1 million documents have been scanned by FamilySearch.org in partnership with the Alaska State Archives to make records available to the public. These records include birth, marriage, death, and probate records going back to the mid - 1800s, a milestone resource for Alaskan genealogy research.
---

Family Search:
This is a free, extensive, open source genealogy database. Searches can be conducted without an account, but you must create an account to save or upload information.
---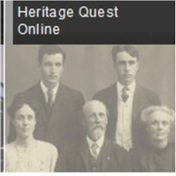 Heritage Quest:
Search by, City Directory,
1850 and
1860 Slave Schedules,
U.S. Indian Census Rolls,
Mortality Schedules,
Agricultural and Industrial Schedules,
1890 Veterans Schedule, and more.
---