Click on slides above for more information!

Surveys help us provide more relevant materials, services, and programs. Please take a minute to fill out the surveys below. Thank you!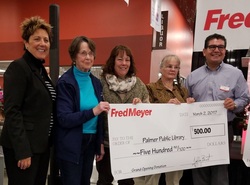 The Friends of the Palmer Public Library, and library staff would like to thank Fred Meyer for donating $500 to the library at their grand opening celebration. On hand to accept the donation were Friends Treasurer, Arlene Bowman, Library Director Beth Skow, and Friends President, Janice Stormer.

---